Techie Stuff:
This brief description is aimed at those who are thinking of using Alien Bees or White Lightning equipment with Canon EOS type cameras (both Digital and non-Digital).
Photos of Vintage Cars in Cuba
We got our first glimpse of a vintage car in the wee hours of the morning outside our hotel on our first day in Varadero. Obviously, we were quite impressed and captivated by this vehicle, as these type of cars are not too common in Toronto. The vibrant colour, a bright orange, was nothing like we've ever seen. It shone in sunlight making our tropical destination seem that much warmer. The paint on the car was superb, a very unique hue. We took out our camera and snapped a few photos. WOW!
We visited and vacationed in Cuba several times in our life, but never have taken too much time to explore the sights and sounds of this popular tourist destination…and see the always discussed cars. The groundskeeper noticed that we were fascinated by the vehicle. He said that the city was full of them. There were more?! Thus, having heard from our tour operator several times during our briefing about the multitude of vintage cars in Cuba, especially in major cities, we took the first opportunity and booked an excursion to Havana.
And yes, she was right, Havana was full of them. It is more common to see these vintage vehicles than newer models in Cuba; mainly due to the high cost of modern cars and a low level of commercial activity with the western world until recently with the fall of communism. Most of the vintages are fairly well maintained with their original parts in tough. Seeing so many of them on the streets is like traveling back in time. The colours are breathtaking from canary yellows to lime greens and from grape purples to fire engine reds; all the colours of the rainbow and everything in between, quite suitable for a country so bursting with life. Even the famous American writer, Ernest Hemmingway, thought so, spending more than 20 years in Havana and writing several books during that time.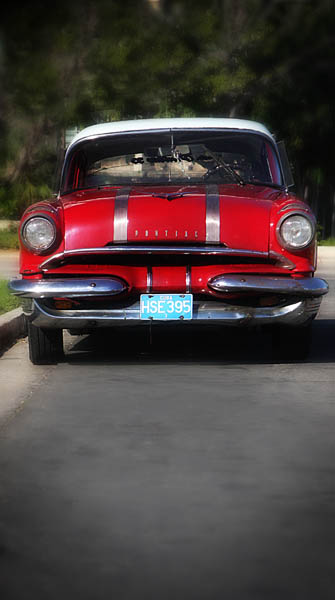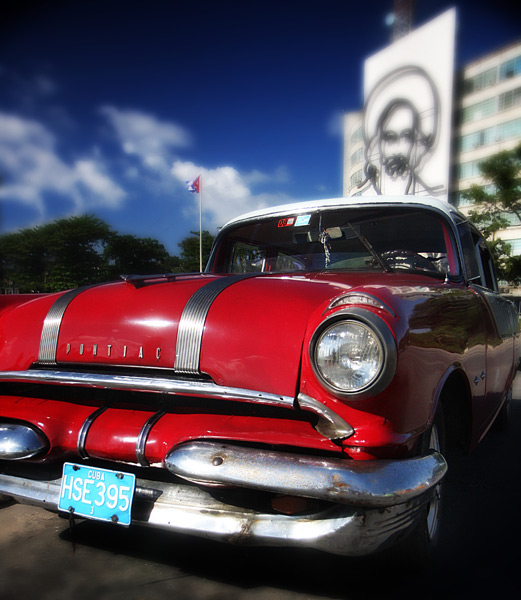 Tourists are everywhere posing alongside and photographing these vehicles. It is no uncommon to see girls get atop of the hoods for a photo op. We saw that they were as awestruck as we were with these four-wheeled wonders.
Unlike in Toronto, you must consider that these cars still have their old engines and are not friendly to the environment, polluting the air with their fumes. It is not unusual to see one of these oldies drive by followed by a puff of smoke. Get your photo while you can, cause "puff"…and just like they will be gone.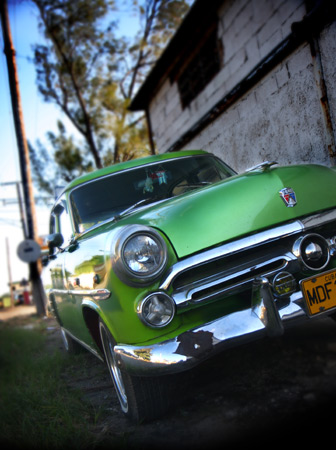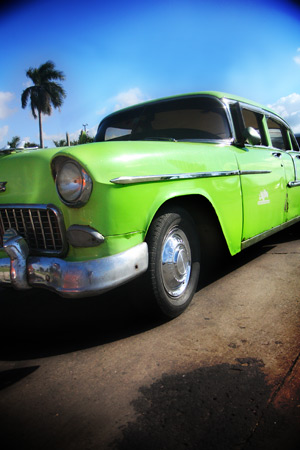 The models in tip-top shape or better condition are mainly used in shows, to attract tourists, as taxis OR for wedding photography. A couple posed beside one of these cars would indeed capture a moment and an essence of Cuba. Here, in Toronto, a vintage vehicle would cost a hefty rental fee. But in Cuba it's FREE! Cuba is a wonderful place to visit and seeing all the vintage cars is just icing on the cake.
Cuba, Si! Si Cuba, Si Vintage Cars…See It All!