In the Roman Catholic faith, the Sacrament of The First Holy Communion is a very special, exciting and memorable day in each participating child's life. The photographers at studioEPIC, would be honoured to capture this joyous occasion for them…as well as their families.

In Toronto, First Communions masses usually take place on Sundays throughout the month of May. However, in the past, we did have requests for Saturday Communions as well.

We strongly encourage you book early with us (as soon as you know the date of your child's Communion) to avoid disappointment, as we may be booked by another school, family or church that same day.
Having participated in, attended and experienced many First Holy Communions in and around the Toronto area, studioEPIC photographers are very aware of the essential moments needed to be photographed throughout the First Communion Mass. During this joyous celebration, the parents and family of the Communicant should take time to relax and enjoy this blessed occasion and leave all the coverage, picture taking and foot work to us.

With our high work ethic, professional quality equipment, subtle and respectable approach you can rest assured that we will excel in the end result, without interfering in the day's festivities.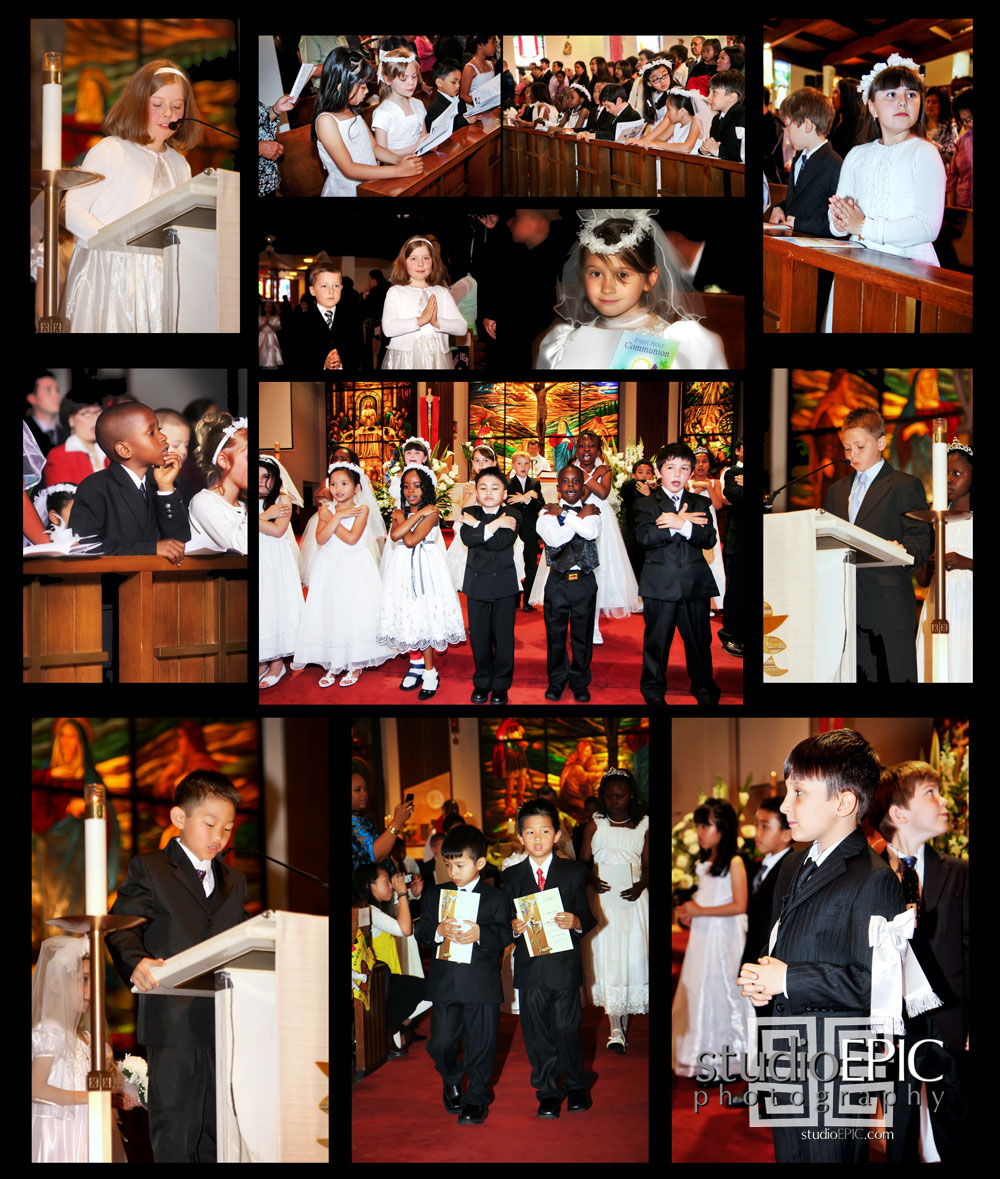 For school or group bookings, one or two photographers will take candid as well as posed images of all Communicants during the First Communion Mass. Some examples of images you can expect may be such as the procession, readers, presentation of blessed gifts, receiving the Sacrament of First Holy Communion and/or First Holy Communion Certificate and/or symbolic gift(s) from the church (small Bible, Rosary, Cross, Pin etc.). Also, other details of the event: children praying or just being themselves, as well as many other important candid moments will be photographed. Inadvertently, being the primary photographers, all the above images will be taken from superior angles and perspective; the front of the church (where patrons and the congregation are not allowed during the mass in fear of interruption of the ceremony).

Most children are very thrilled and enthusiastic about getting their picture taken during this celebration; they know that this is a once in a lifetime special occasion and that they need to be at their best behaviour. All the children look angelic in their best garments, which is later reflected and quite evident in the beautiful, charming and edited final images we provide.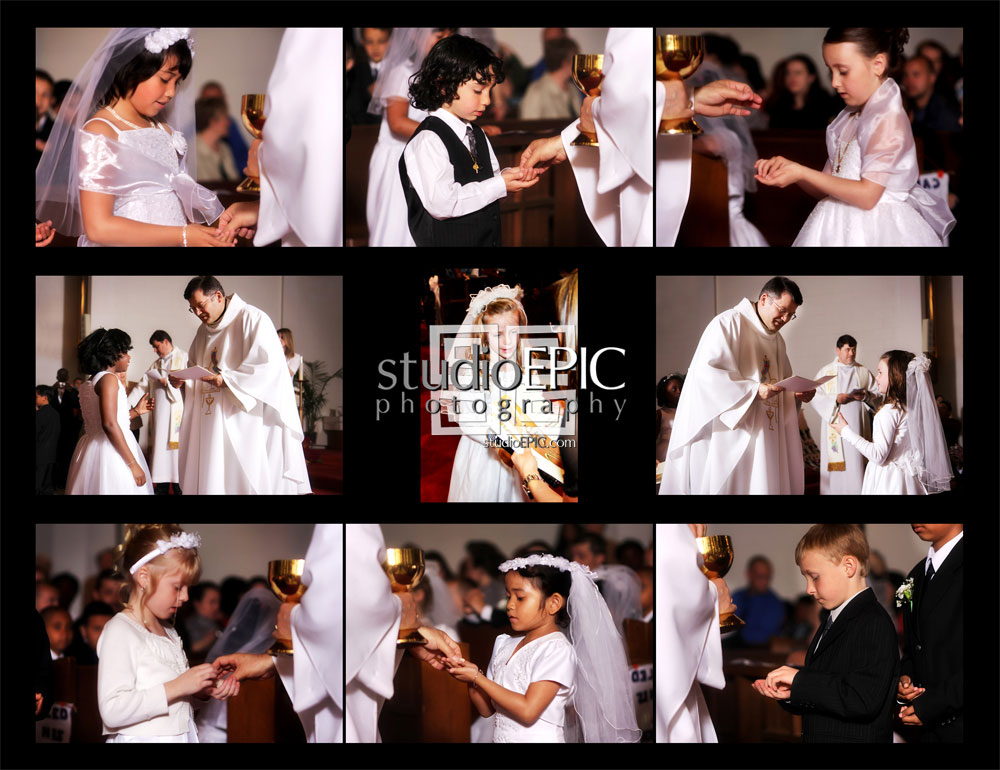 Typically, after the mass ends, the Communicants are requested and organized to pose for a group portrait, usually with the priest and their teacher(s). We always kindly stress and ask that all persons refrain from taking the group portrait along with us as other photographers get in our way, trigger our strobes/lights as well as distract and make the group look away in various directions, which makes it harder for us to take a superb quality image. Time will be provided to anyone who wishes to take a group portrait after we have completed, captured and are satisfied our group image. The children will be asked to remain in their position for a few more minutes.
In regards to hiring us, studioEPIC photography, typically, we get approached and booked through the Primary Catholic School "Parent First Communion Committee" (a small committee of parents put in charge of organizing the day's festivities; such as decorations, flowers, presenters, photographers and/or videographers etc.). If requested, we will be more than happy to make a brief presentation about what we can offer you as a group. We can also discuss and customize a package which will suit your groups' individual needs best. Some First Communion groups wish for us to take portraits of the First Communion child and individual family portraits as well on the day of the Communion Mass (before or after Mass). All relatives are invited to partake in these sessions. Sometimes, a day is set aside during the following week, when children are requested to attend mass wearing their Communion outfit and we are asked to come and take portraits in the church hall before or following the mass. The group portrait can also be taken before or after the First Communion mass in a studio-setting in the church hall. We will be pleased to accommodate any requests, if possible. Please note that there must be a minimum of 10 families participating in these portrait sessions for us to proceed. See rates in chart below.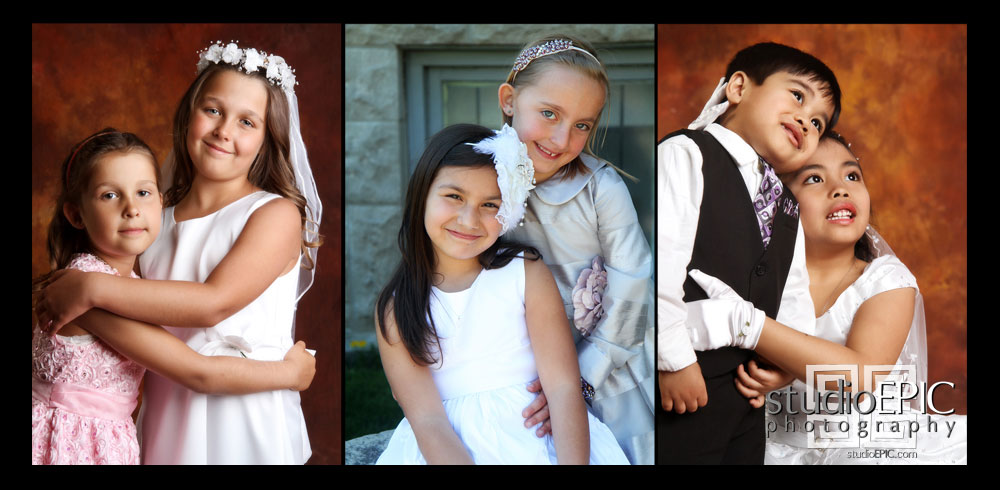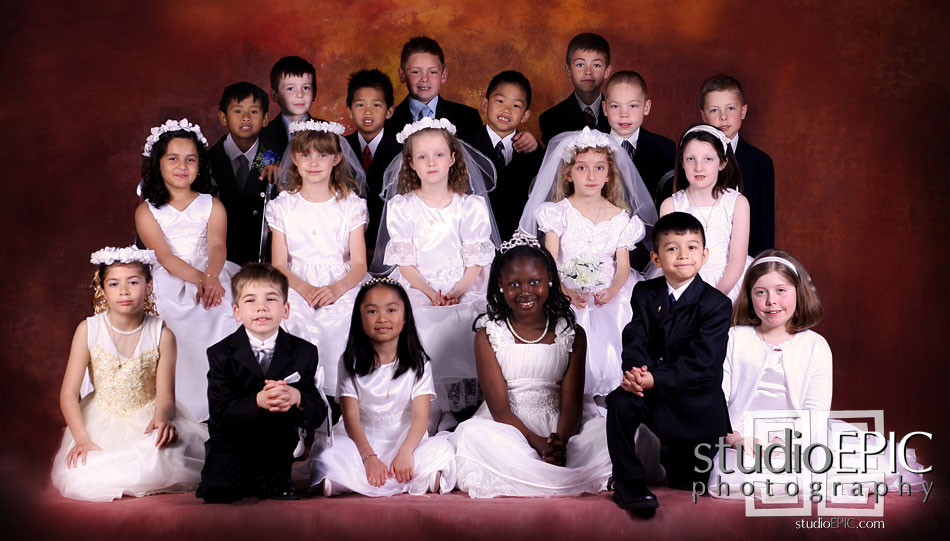 On occasion, we get contacted or approached by individual families or parents of children receiving their First Holy Communion. These families hire us on an individual and private basis. We photograph and "document" only that child throughout the day of their Communion, making sure to capture all the special moments of the celebration (posed and candid). We also offer customized in and out of studio portrait sessions to individual families and Communicants. These are more personal and allow us to get a better focus on the specific child and their family. You may select a location, such as your home/ garden or close-by park for these private portrait sessions. Our suggestion is to have these photos done up to 1-2 weeks prior to your child's First Communion or at least a few days before to avoid a rush and stress to the child. However, we will try our best to accommodate your requirements, if a request is made to have private portraits taken on the day of the First Holy Communion. See rates in chart below.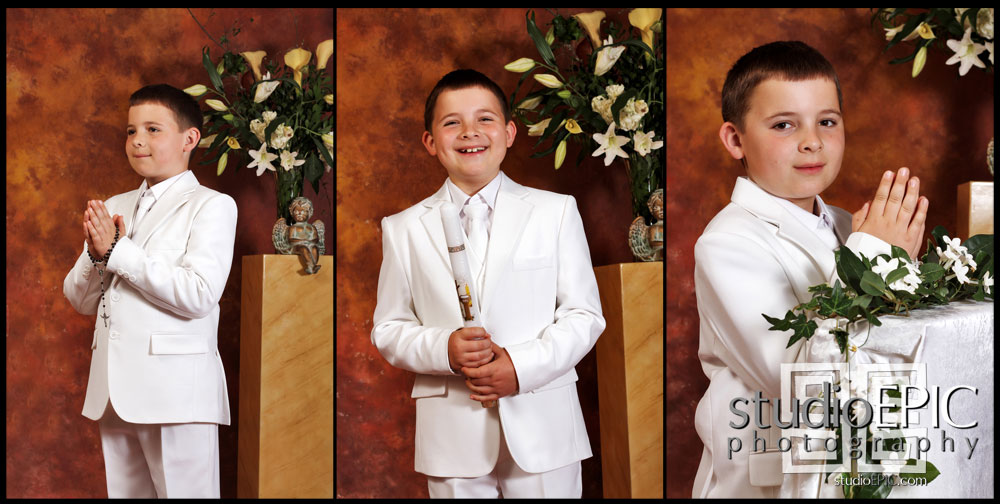 In order for families to save costs, Communicant and short family portrait sessions may be combined with the First Communion Mass and are typically done before the celebration (sometimes, if the group is larger, we hold after mass sessions as well). Typically, for these sessions, we would require a larger space, usually the church (banquet) hall, to assemble our set-up, which includes backdrop, strobes/lights, soft box and props, such as faux marble column, small kneeler, candle stand with candles and/or flowers. These sessions take about 15 minutes per Communicant/Family. See rates in chart below.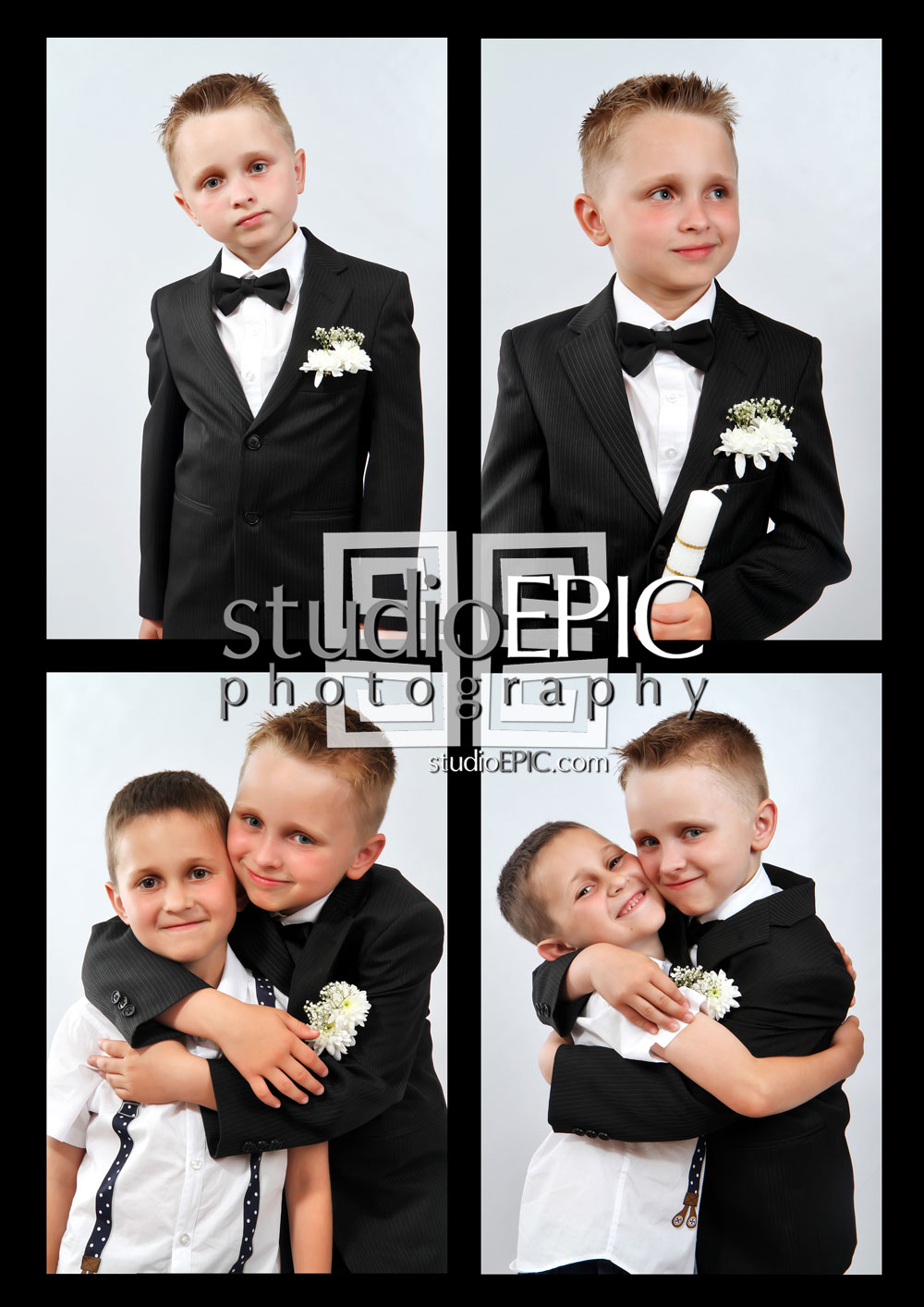 Our rates and packages are reasonable and affordable and deliver ultimate results.

Below you will find a rough breakdown of our photography services:


First Holy Communion Rates:
Communion Mass Coverage
ADD (to Mass Coverage)
Before/After Mass
Portrait Sessions
(may also be booked
on another day)
Private Portrait Session
Time:
Up to 1.5 hours
2-3 hours
Up to 1.5 hours
Place:
In church during Mass
(some pre-Mass set-up required)
At church hall
before/after Mass
(extensive set-up required)

At your home/garden
or nearby park
(no set-up required)

Includes:
-1 or 2 photographers
-High res. DVD
(print-your-own)
-Up to 150 (un-marked &
edited) images
per child/family
-One 5"x7" enlargement
(printed group portrait)
per child/family

-Professional studio set-up:
backdrop, strobes, props & flowers
-1 or 2 photographer(s)
-High res. DVD
(print-your-own) with 12-15
(un-marked & edited) images
per child/family

-1 photographer
-30-40 un-marked proofs
(web gallery/contact sheet)
-Your choice of five 5"x7" enlargements
(selections will be edited)

Rate:
$50+* travel
(if outside of Etobicoke)
plus
$25+* per child/family
-minimum of 20
families required
(to receive $25 rate)

$50+* travel
(if outside of Etobicoke &
booked on another day)
plus
$75+* per child/family
(includes travel and set-up)
-minimum of 10
families required
(to receive $75 rate)

$150+*
(add $50+* travel,
if outside of Etobicoke)

*taxes included in above rate(s)
If you are interested, you may also hire us for your First Communion Reception. Bookings for these celebrations fill up quickly. We can only accommodate up to 2 families per day. Once again, various portraits may be taken during the First Communion reception as well and you can leave all those till this time instead of getting them done earlier, as mentioned above. Event coverage starts at $150 per hour (depending on location and size of event) and includes a high res. DVD with high-quality fully-edited images (you can expect about 40 images per hour).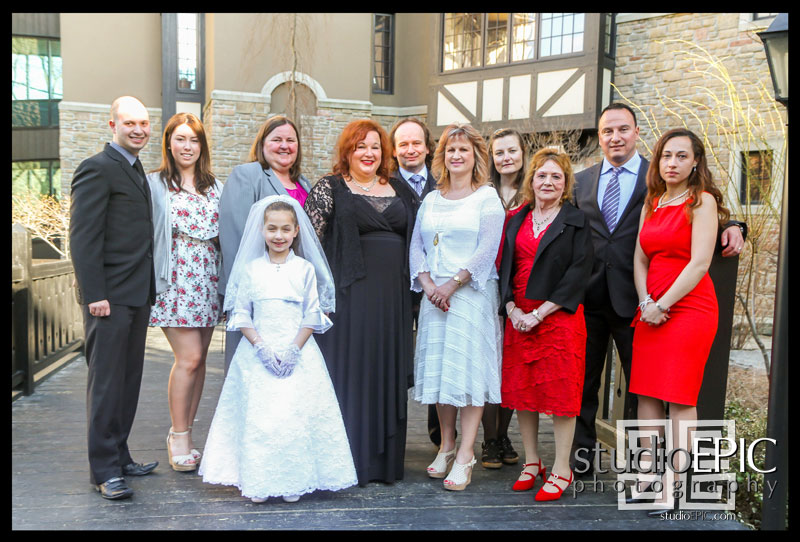 Thank You for Your interest. We look forward to celebrating with You...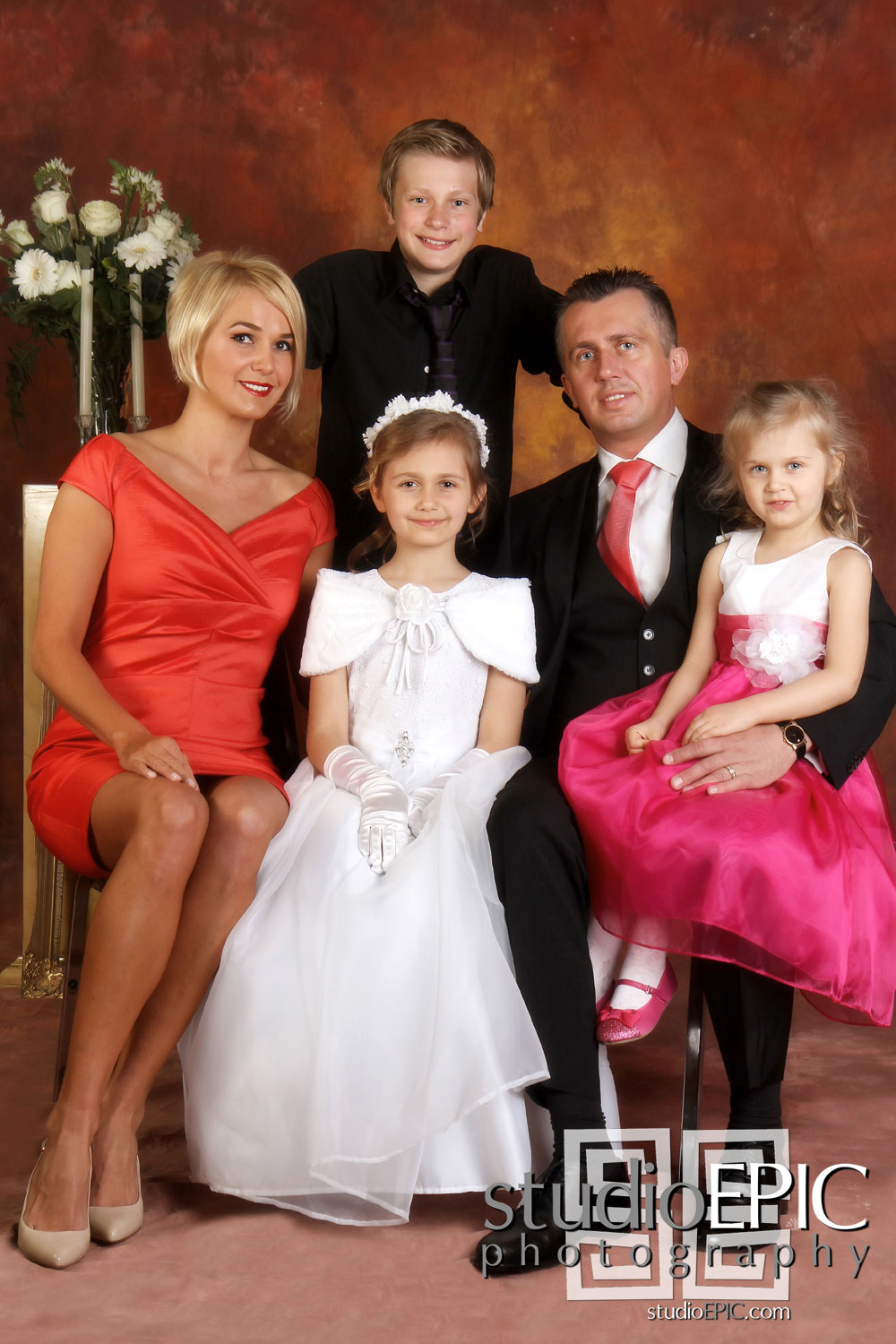 Please do not hesitate to email: studio@studioEPIC.com or call us at 416.554.EPIC for further information or inquiries.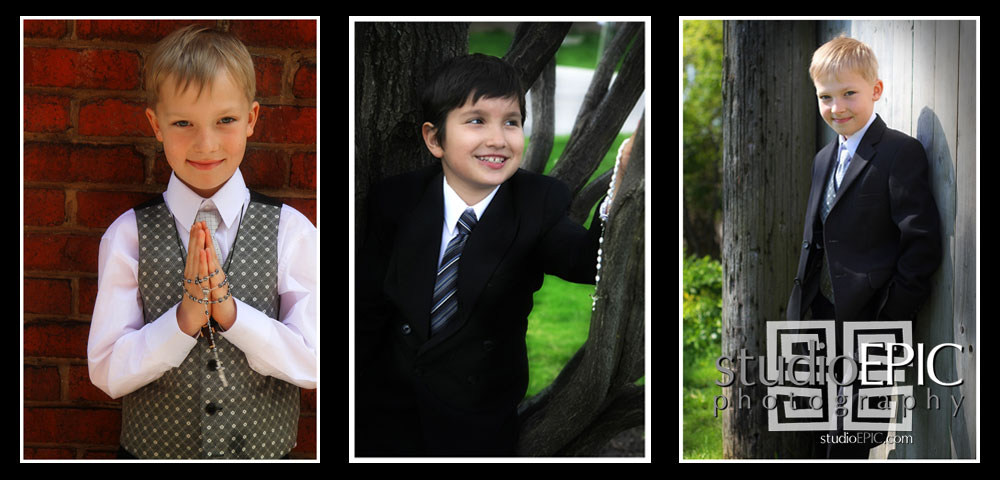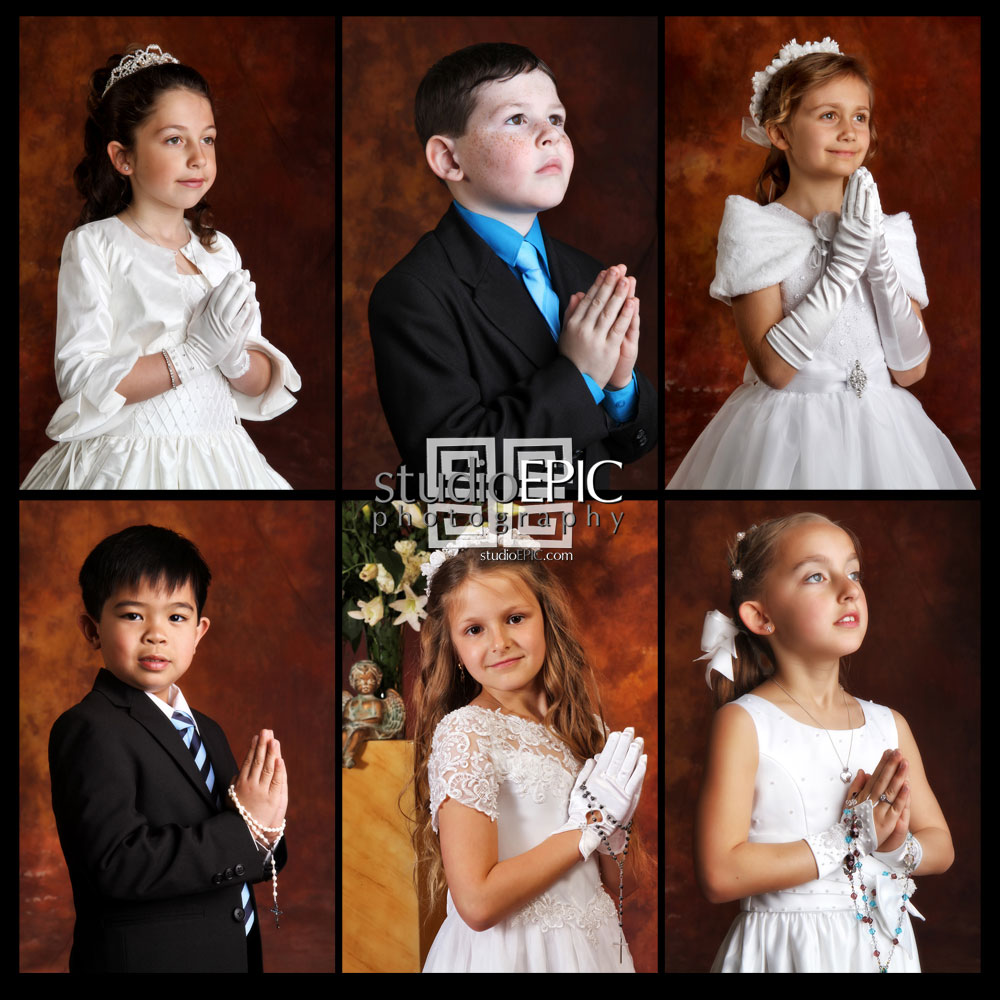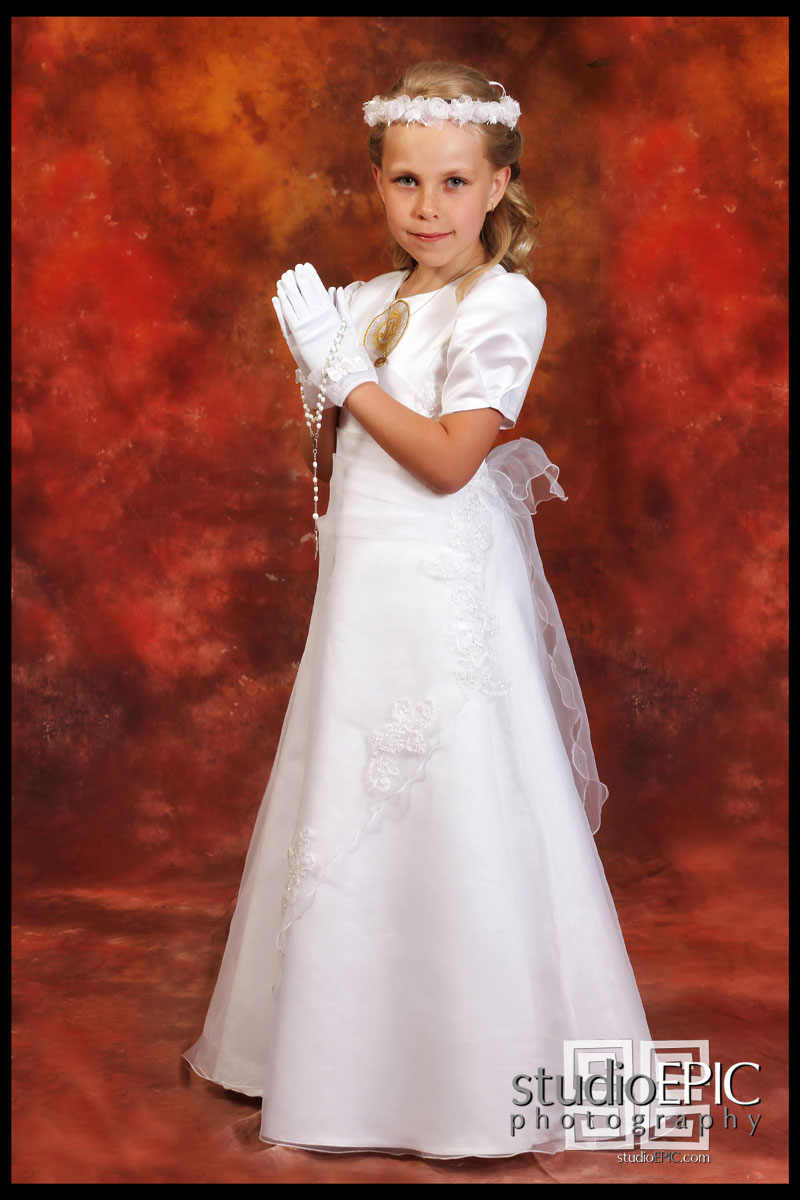 If you found this review useful please +1 this on google to help others find it easlier on google search engines. Thank You!