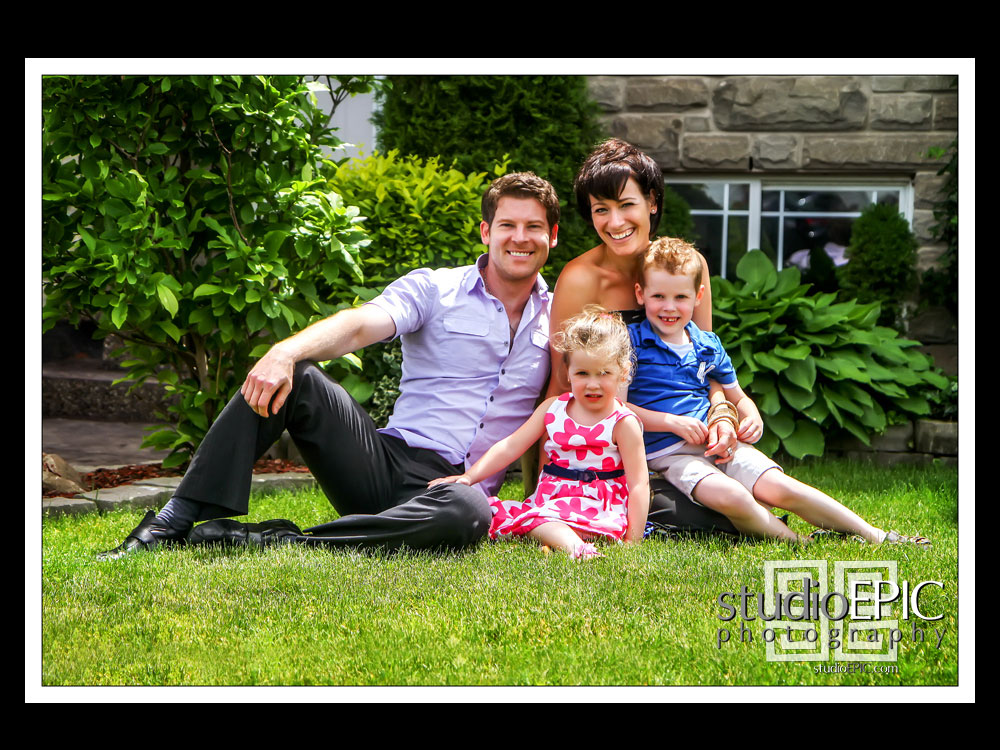 Conveniently located in Toronto, Ontario studioEPIC photography aims to fulfill your every portrait need. We specialize in memorable, unique family portraits. Using our professional equipment, vast experience and friendly approach you may be assured you will get an optimal image to treasure for years to come.

studioEPIC photography, would be pleased to take this special portrait for you. You are welcome to contact our studio at any time and book a session with us.

However, if for any reason, you are unable to use our services and would like a few helpful tips, pertaining to taking good-quality group photographs yourself, please continue reading. The below article is meant to serve as a summary of brief directions and instructions, in achieving this very valuable keepsake. We hope that you will find the following guidelines helpful; aiding you in taking a superior and engaging family portrait.

First, a definition found on Wikipedia, which we think captures the essence and perfectly clarifies what a "portrait" actually is:

"A portrait is a painting, photograph, sculpture, or other artistic representation of a person (or group of people), in which the face and expression is predominant. The intent is to display the likeness, personality, and even the mood of the person(s). For this reason, in photography a portrait is generally not a snapshot, but a composed image of a person in a still position. A portrait often shows a person looking directly at the painter or photographer, in order to most successfully engage the subject with the viewer".
Throughout history, people have realized the importance of a family portrait. Even before the invention of the camera, individuals felt the need and value of celebrating their families through various drawings, sculptures and paintings; in turn demonstrating the significance of their close family bond. A family portrait evokes pride and acceptance, a family portrait signifies unity.
In many instances, generations of our ancestors attempted to preserve at least part of our family history. They have accomplished this in many ways; various keepsakes, stories, treasures and old family heirlooms passed down throughout the years. However, for the larger part of the last century, many of those precious mementos have been in fact photographs of our relatives. In turn, it is also our obligation to maintain the tradition of passing our histories to our successors, in order that future generations may reflect upon our lives as well. Thus, a tool which will aid in this legacy would be a memorable current family portrait. Therefore, we must make it our responsibility and priority to make some time to take that ever so important family picture at least once in our lifetime.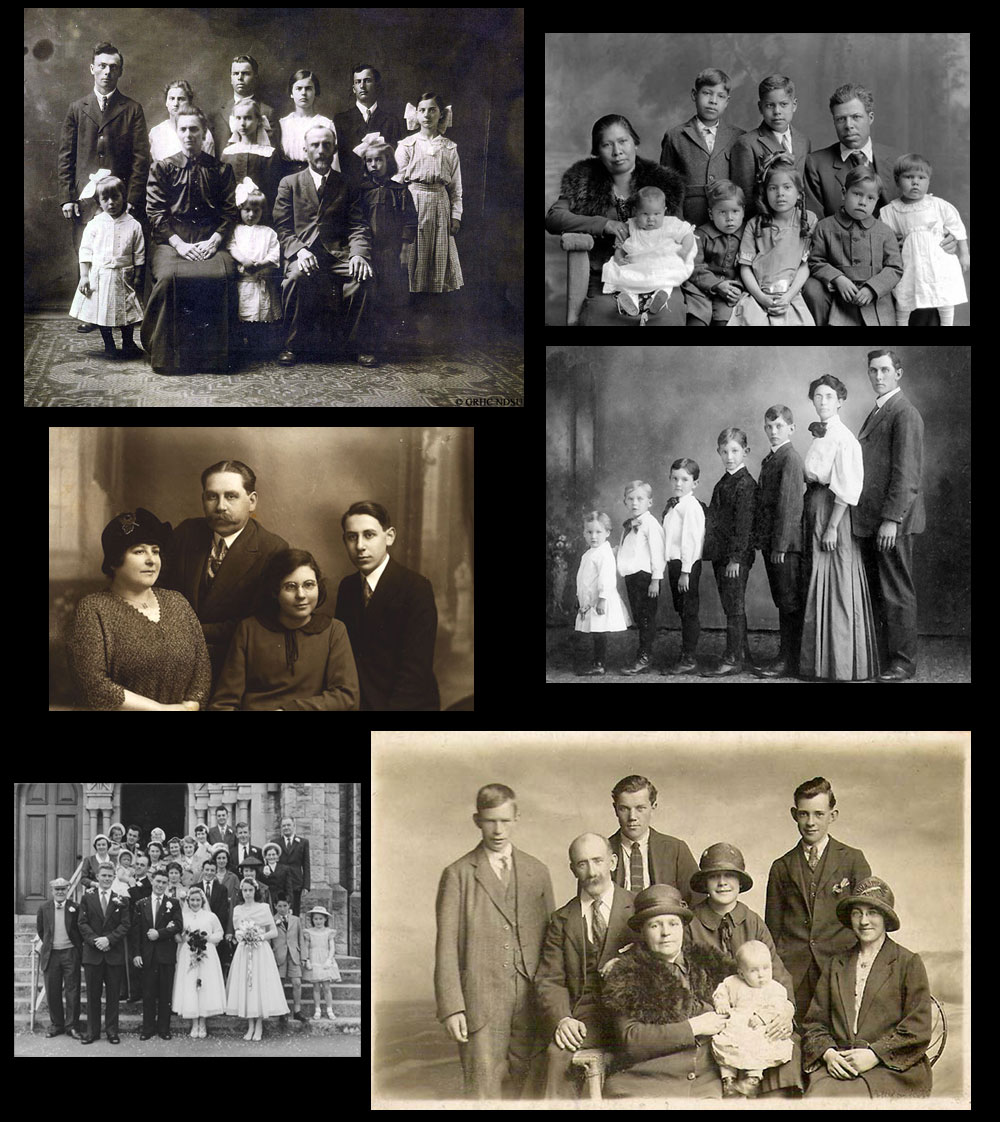 Currently people are "stepping out of the box" from the formal definition of a portrait, as above; mainly faces, very formal and looking directly at photographer. People want to make their family portraits unique and fun; they want all participants to enjoy the session and make it pressure and hassle-free. People desire images which express their own and their family's individuality and uniqueness. Thus, nowadays, almost anything is acceptable. Believe us, that we, as professional photographers, for close to 15 years, have seen our fair share of creative family photos. It is all up to you regarding the direction you want to take with your final family image.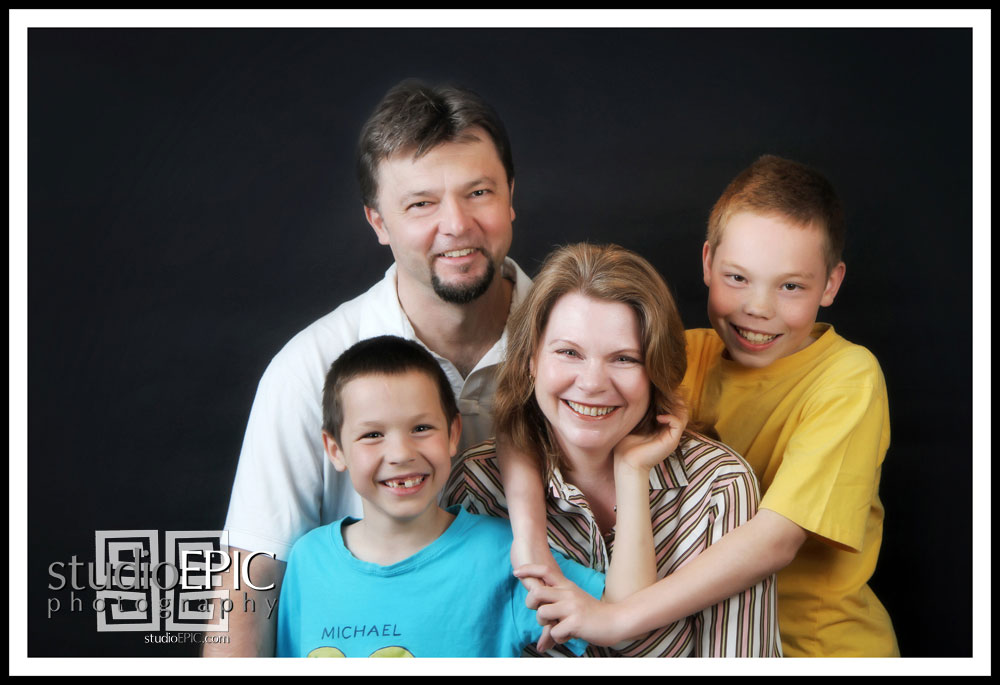 Families can select from an on-location portrait (home, garden, park etc.) or an in-studio portrait, where there is a more controlled environment, mainly light and temperature. Participants may also experiment with various looks (style, colour etc.). From our experience, families have utilized various props and outfits, played with multiple creative ideas, and also included their pets in their final image. A family portrait may include many generations. It may also include as little as 2 people. In today's society there is not just one single definition of "a family"; families may be blended and not even blood-related. Your "family" usually is the people you consider closest to you. Therefore, it is up to you to decide who you consider your dearest and closest ones and would like to have included in your special family portrait.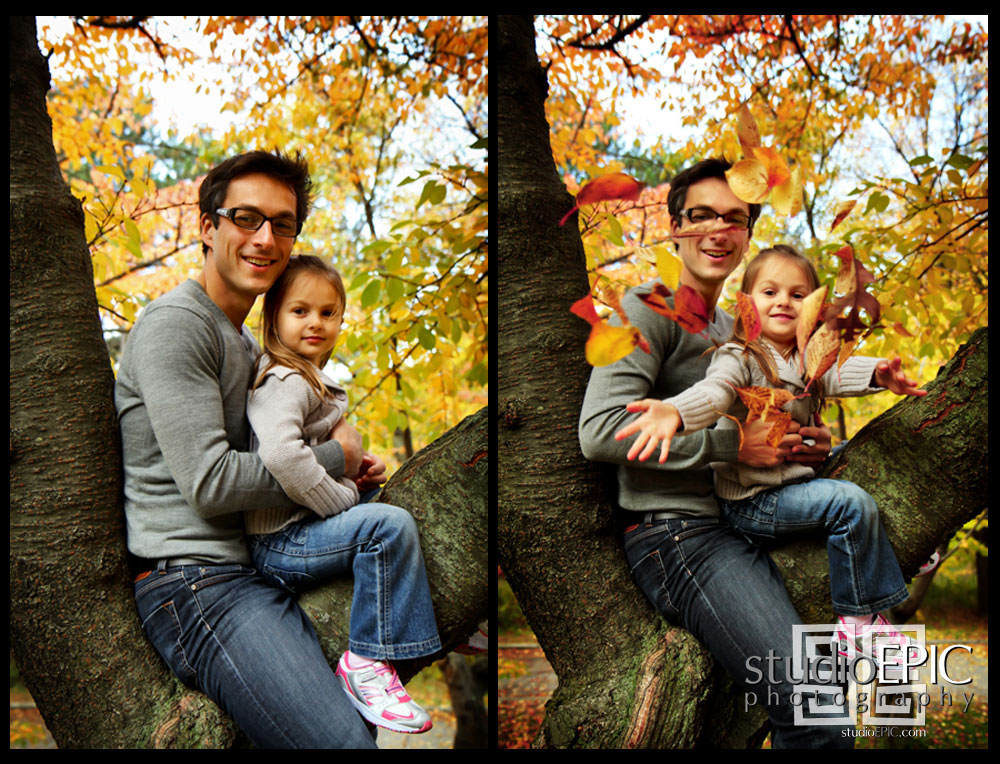 A sad, but true, fact is that the people you love will not be around forever and once they are gone, a family portrait with them will become that much more meaningful to you and those remaining. Thus, another important reason, an official family portrait is one of the most sentimental and optimal ways to commemorate and evoke your family roots. In a family portrait you can actually see the faces of your relatives, evoke past feelings and memories and familiarize yourself with their history and life. Also, persons in a family portrait usually look their finest, the way they should and would want to be remembered.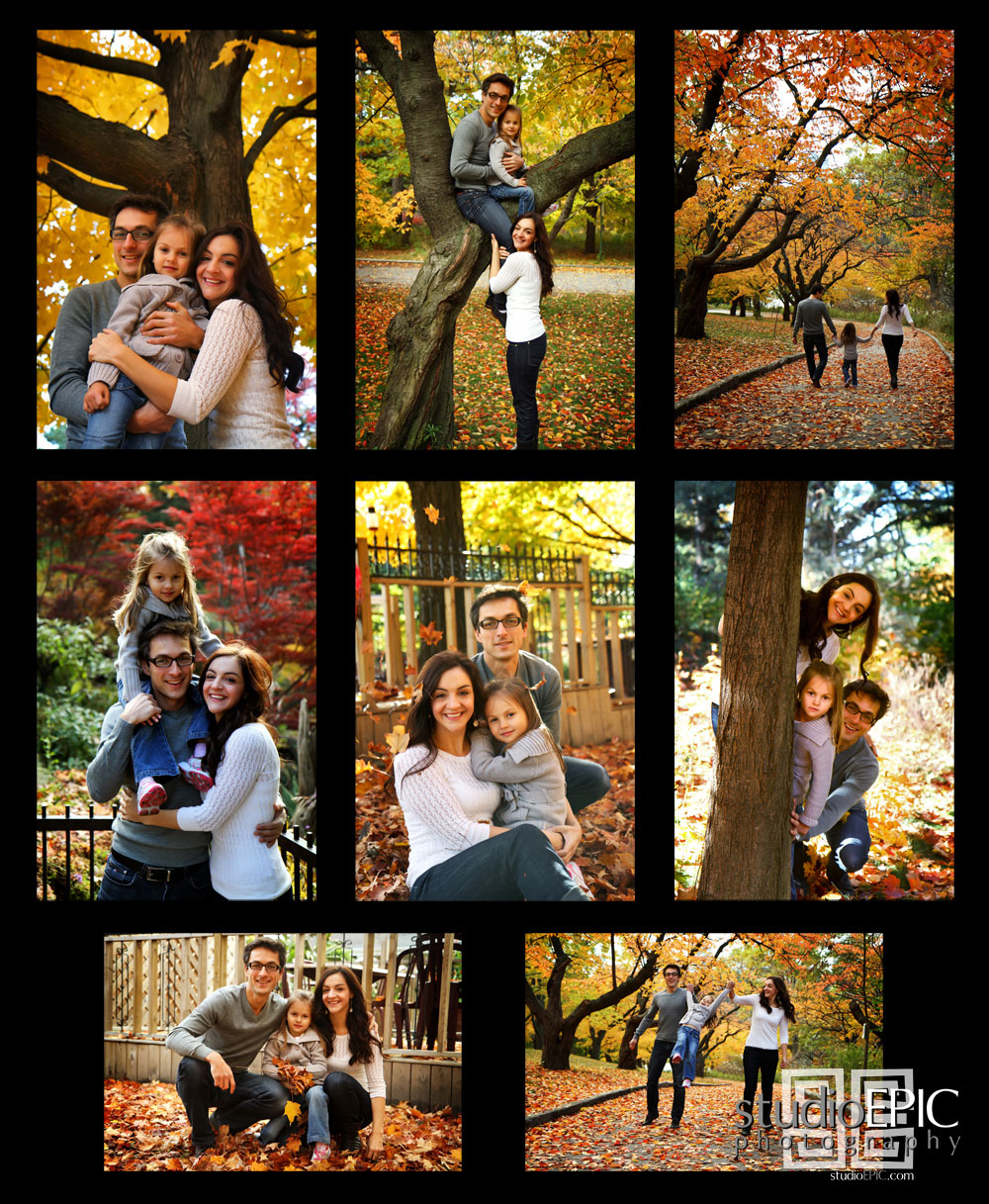 When thoroughly planned and organized and with sufficient notice, participants in the portrait, should be advised to prepare themselves accordingly and try to look their very best. This includes hair, make-up and outfit. It is also important to mention to the group getting photographed that the portrait will be passed down to future generations. This will encourage and ensure to make the entire group being photographed more alert when the photo is being taken.
A great on-location family portrait may be taken at a larger gathering, such as a picnic or family reunion or at a special function, such as a wedding or other event, where the entire family is all together. These occasions do not happen frequently, therefore it is optimal to seize the moment, assemble and organize your loved ones, and take that special image. One may choose to take a larger family portrait with all the relatives (cousins, aunts, uncles, grandparents etc.) or as many persons as can fit and assemble in given space and time. A bit of a warning though, these larger family portraits are rather difficult to take as it is hard to first gather, accommodate and coordinate everyone and then to get their full attention at the same time, especially if you are dealing with several generations ranging from very young children, who are quite unpredictable with their temperaments to elderly persons, who sometime are a bit slower and not as mobile due to their age. But no matter, just try your best and work with the participants you have; you can always work around the situation and pick a better time of day for the youngsters or ultimately, ask the group to assemble themselves around the seniors. Once you get the image, you can be proud of what you accomplished, as you have created a one of a kind family keepsake, which will be admired and looked upon by many eyes and future generations. Hopefully you will be rewarded and/or credited for your effort.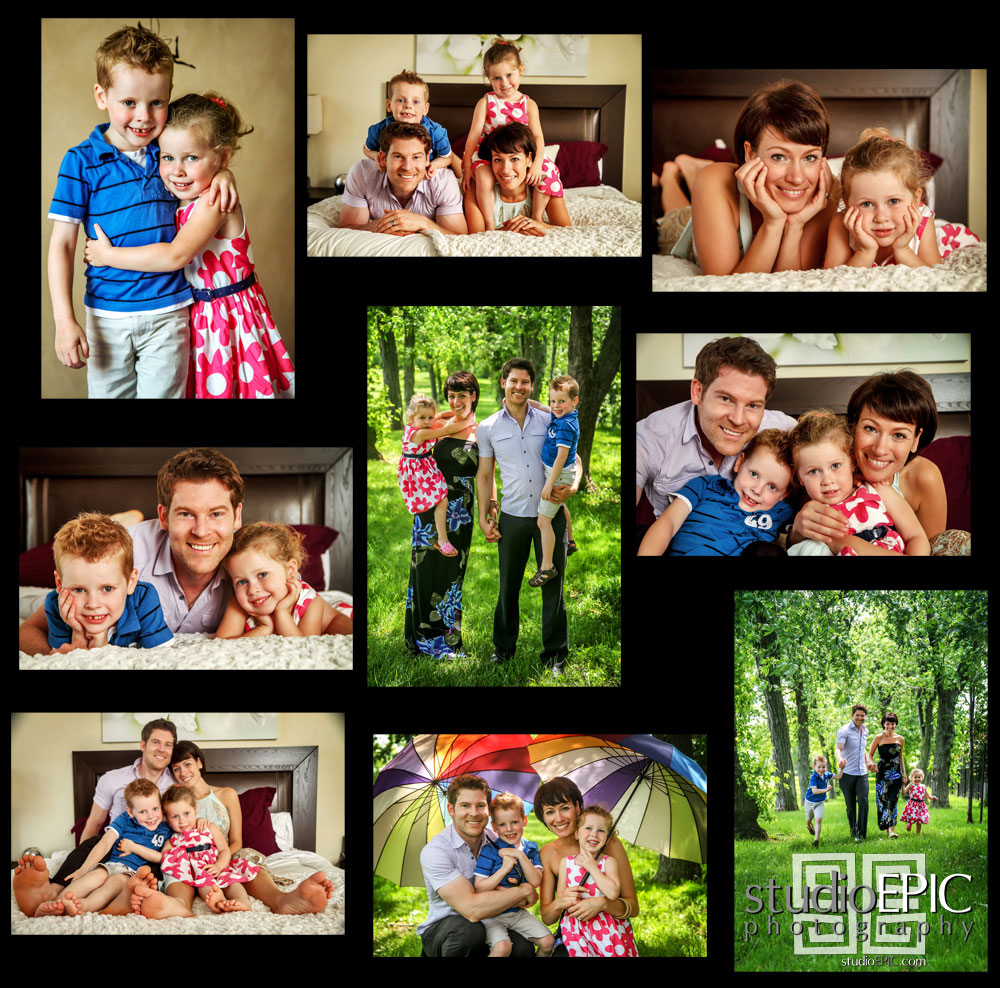 An important factor to consider when selecting the location of your portrait, whether indoor or out is the light, and lots of it, especially for larger groups of people. Therefore, your priority before gathering your group is to scope out a good location, which will provide sufficient light for all individuals, especially their faces, in the portrait to be evenly lit; you do not want anyone lurking in the shadows. You need to have a good camera, tripod and lens. A wide angle lens is optimal to capture a large group. Also, the set-up of your equipment is very important; the camera has to be in an ideal position to capture a large group of people. We suggest that after you select your location, set-up your camera on the tripod, and using the view finder determine the distance you will need to capture your group, note that, once again, this depends on the size of your group. It is also a good idea if you get familiar with the timer on your camera, as you probably want to be in the portrait as well; 15-30 seconds is sufficient for you to run back and forth between shots. Once you have your location and set-up, you can assemble and pose your group. Provide everyone with direction; where to look, stand straight or pose and their expression (smile, no smile etc.). Check you image each time you take it and make adjustments if necessary. It should take a few tries, but in the end you will get a exceptional portrait, which will be admired and truly appreciated by the group.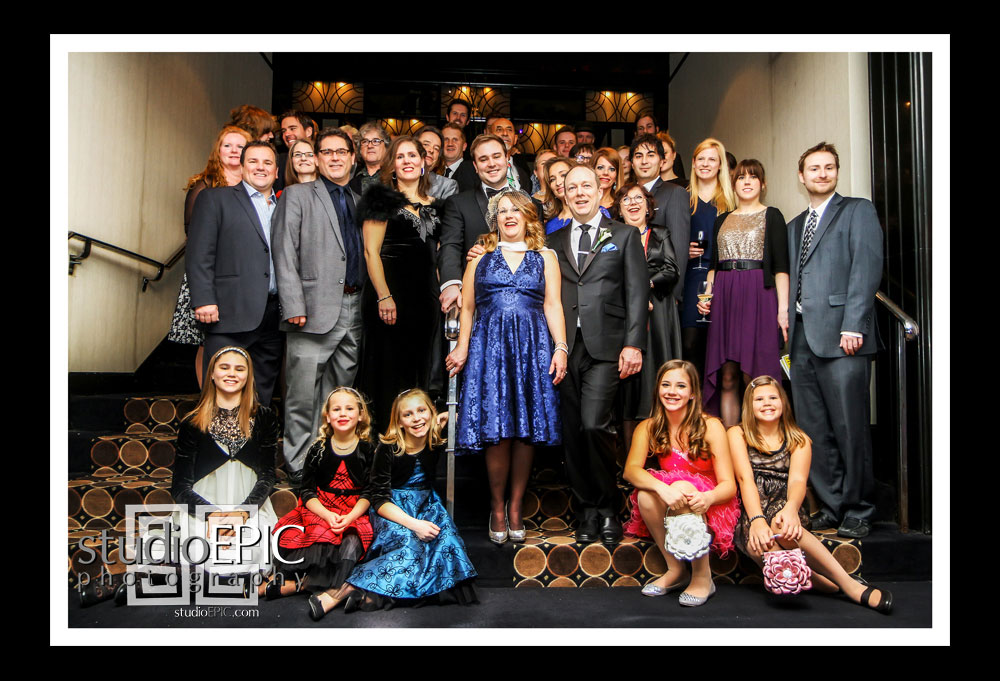 Another great idea is to plan to have a family portrait taken during a holiday or vacation, when all significant and closest family members are present. This may be quite a relaxed time and a start to a wonderful family tradition. Everyone can be alerted in advance that they should be ready that day to have a family portrait taken. They should also be advised in regards to the feel and look of the portrait (Should the participants dress a certain way? Should they expect any surprises? Where will the picture be taken?).
A more optimal, hassle-free and strongly suggested option of course is to hire professional photographers, such as us, studioEPIC photography, who possess knowledge, experience and professional equipment, to take your family portrait(s), which can be done in or out of studio. Thus, once again, the photographers at studioEPIC would be pleased to serve you in obtaining that desired family portrait...if you decide to utilize our services is all up to you. We welcome your business. We get booked equally for on-location and in-studio portraits; the main difference being convenience for on-location and more control over light in-studio. Additionally, in the studio we have a neutral evenly-lit backdrop. The entire studio set-up (strobes and backdrop) may also be transported to your location (home) at an additional cost if you desire the look of an in-studio shoot with the convenience of you staying at your location.

Our in-studio family portrait sessions start at $250 for a family of 4 and include prints. If you are looking for an in-studio portrait, you have come to the right place. We are familiar with various set-ups, poses and lighting techniques to make your family look amazing. Studio portraits are hassle-free, quick and easy?all we need is you and your relatives. It is up to you to decide whether you would like a more traditional or a bit more creative portrait and we will do the rest. Our rates and packages are reasonable and affordable and deliver ultimate results.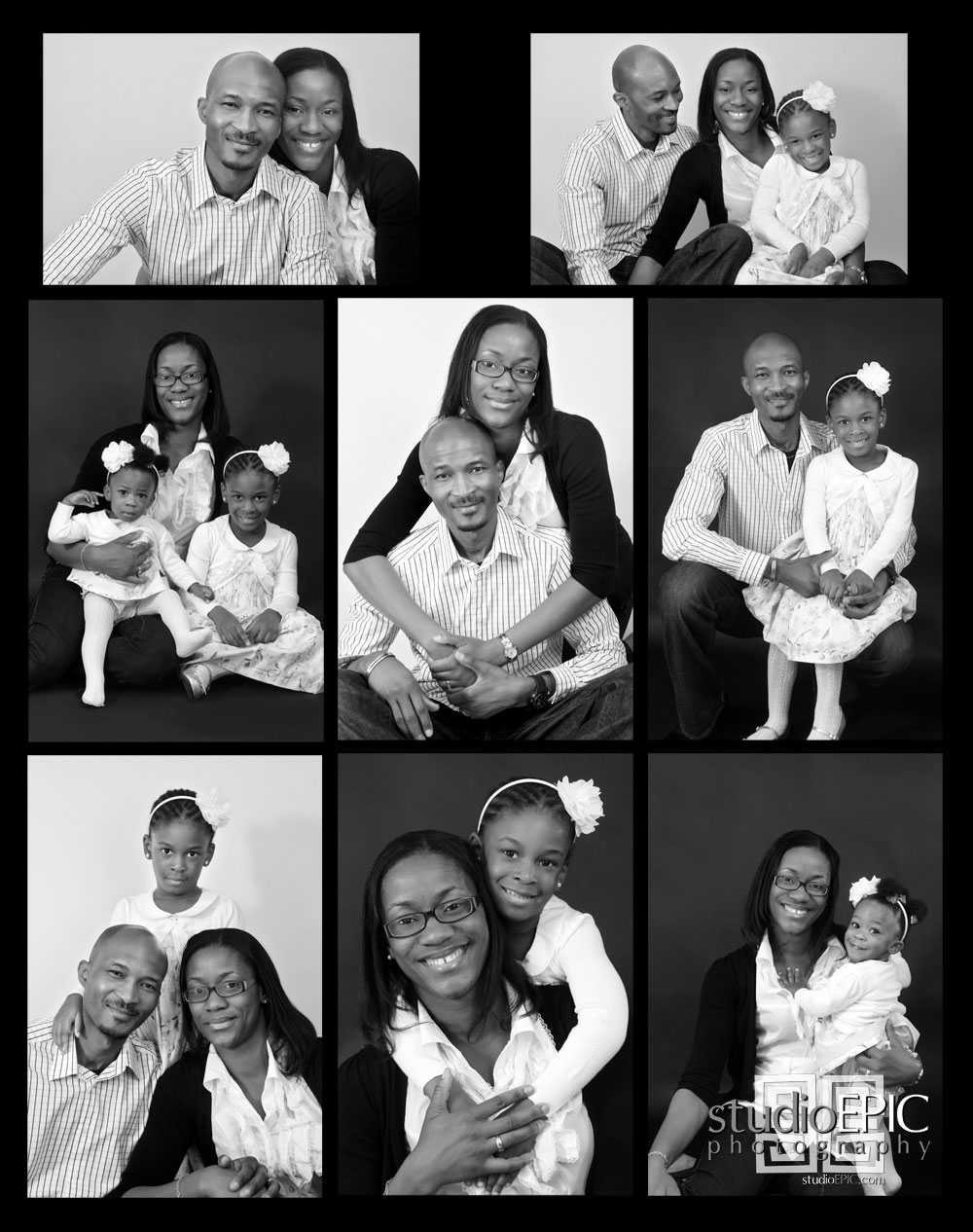 Please find below a link to our ?Portrait? Rates (on-location and in-studio):

http://studioepic.com/rates.php/rates/rates_portrait/

At studioEPIC photography, it has been through our observation and experience the important role a family portrait plays in uniting families. This is the main reason we have decided to release this valuable article. The relationship and close family bond is clearly depicted in these images. Your family becomes "frozen" in time and the achieved photographs become of utmost importance. We hope that this article has been informative to you and has opened your eyes to the relevance of a good family portrait. Thus, we strongly recommend and urge everyone, that whether it is a professional portrait or not, all families get organized and take at least one good-quality beautiful and memorable family portrait, cherish it and pass down to future generations.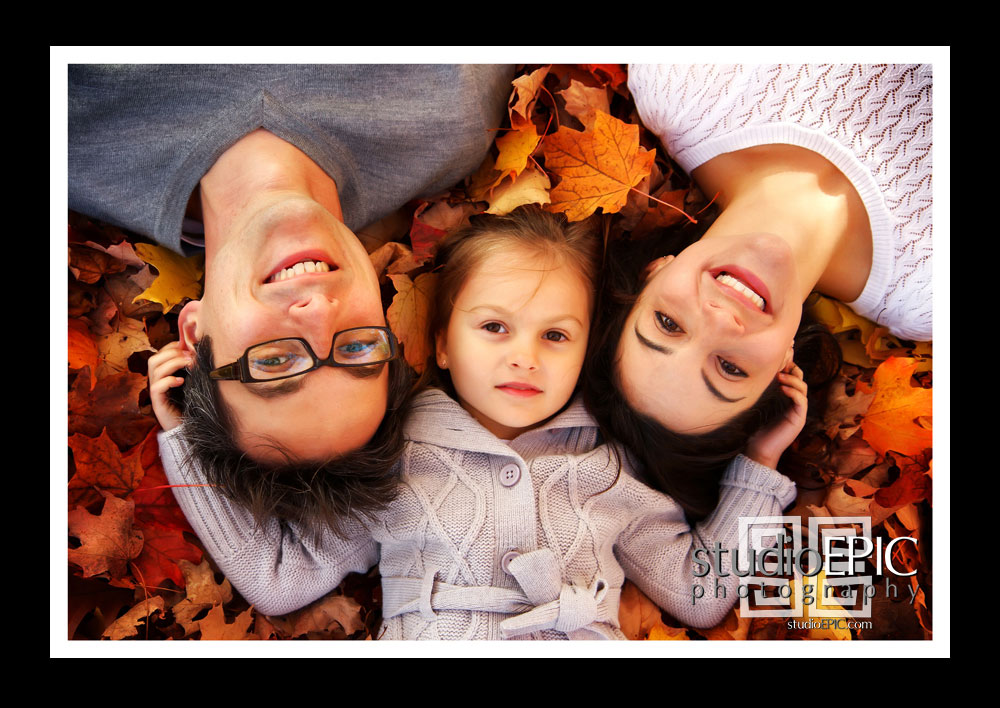 Thus, whether you select to take an in-studio or on-location portrait, a more traditional, posed or a casual and fun image, either family photo will be of sentimental value to future generations. The type of portrait you will acquire all depends on you and your family's taste and style. There are many options and discussing them with your photographer/stylist beforehand will aid you in achieving the desired look and final superior product.

If you cannot take it yourself, allow us to aid you in creating beautiful family memories.

Additional prints/enlargements may be purchased.
A high res. DVD with all images may be purchased as well at an additional fee.
All images are fully edited, with superior post-production.


Thank You for Your interest and we look forward to taking your family portrait that you can enjoy for years to come.

Please do not hesitate to email: studio@studioEPIC.com or call us at 416.554.EPIC
if you require further information.